Material Maker
A downloadable tool for Windows, macOS, and Linux
Material Maker is a procedural materials authoring and 3D model painting tool, based on the Godot Engine. Materials and brushes are defined as graphs where nodes create or transform textures, and can be exported for the Godot, Unity and Unreal game engines.
Most nodes are defined as GLSL shaders, and when connecting them, Material Maker will generate combined shaders (instead of rendering an image for each node). It is also possible to create new nodes either by combining and grouping existing nodes, or by writing your own GLSL shaders.
Material Maker is available for Windows, Linux and MacOS.

The source code is available on GitHub, as well as the online documentation. Github is also where you can report bugs or suggest new features.
Material Maker also has its own subreddit, and its Discord server and this is where you can ask (and answer) questions.
You can also share the awesome materials you created on the Material Maker website.
Materials you can create
Material Maker can be used to create several types of materials, and new custom material types, as well as new export targets for existing materials, can be added if needed.
Static PBR material: this is the most common material type, and exporting it will generate a few textures (albedo, metalness, roughness etc.) you can import in your favorite game engine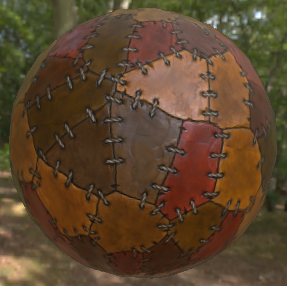 Dynamic PBR material: a PBR material with motion, that will be exported as a shader (and optional textures).
Raymarching material: a raymarching scene inside the mesh it is applied to, exported as a shader.
Dynamic unlit materials are also exported as shaders and can be used to create all sorts of VFX.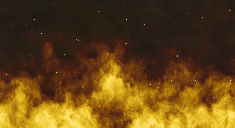 Features as of version 1.0
A simple texture generation engine that defines a very small set of node types (shaders, buffers, node groups, image, text, switch...) that can be connected to describe procedural textures. The engine does not generate an image for each node, but combines shaders until it reaches a buffer node or the target Material node (textures described as combined shaders are resolution independent).
A painting engine that can paint albedo, roughness, metallic, emission, normal map, depth and ambient occlusion components of a 3D object's material at the same time, use generated shaders as brushes and can map patterns on brush, screen or texture space. The painting tool supports multiple Paint, Procedural and Mask layers.
A website dedicated to sharing procedural materials and brushes.
A base library of ~200 nodes that define shapes, patterns, filters and transforms on textures, as well as 2D and 3D shapes described as signed distance functions. Those nodes can be accessed from the Library panel or the nodes context menu of the graph view.
New group nodes and shader nodes can easily be created using the user interface (creating shader nodes require some GLSL knowledge).
A graph view where material graphs are edited, with several available material types (Static PBR, Dynamic PBR, 3D PBR, Raymarching, Unlit).
For all material types, exports ready-to-use materials for the Godot and Unity game engines. For Unreal 4, manual setup of the material is necessary, Material Maker only generates image files and shaders. For Unreal Engine 5, Material Maker generates a python script that must be executed in Unreal to automatically build the material.
A hierarchy view that shows the hierarchy of group nodes in the current material.
2D preview panels that shows the textures generated by the selected nodes and can export the result, as a single image, or as several images or a spritesheet for animations.
A 3D preview panel that shows the current PBR material on a model. Basic shapes (Cube, Sphere...) are available and custom models can be loaded in .OBJ format.
An Histogram panel that shows the current node's output tonal distribution.
A Reference panel where images files can be dropped and that can be used to pick colors and gradients.
Pay what you want
Material Maker is free and open source, but it is still possible to help the project in many ways.
If you don't feel like paying anything, just click the "No thanks, just take me to the downloads" link when prompted for a donation. You can still help the project by submitting awesome materials on the website, reporting bugs, suggesting new features, or even contribute code on Github.
You can, of course, donate when downloading. Thanks a lot for doing so.
If Material Maker is really useful to you and you wish to contribute more, I have a Patreon. Backers have Discord benefits, and this will help me spend more time on this project.
If you want more tutorials, Arnklit (the guy who creates awesome video tutorials for Material Maker) has a Patreon as well.
Translations
Translation files can be installed using the Download button in the Preferences dialog.
If for any reason this does not work, you can download the translation file manually and use the Install button instead.

TroubleShooting
If you have problems running Material Maker on MacOS (or any other platform), please contact me on Discord
If you want to run a 32 bits version of Material Maker 1.0 under Windows or Linux, you will just have to:

download and install the 64 bits version
download the 32 bits version of Godot 3.4.4 for your OS from here
in Material Maker install dir, replace the executable file with the 32 bits Godot executable
you now have a 32 bits Material Maker

For any other problem, please don't hesitate to contact me on Discord
| | |
| --- | --- |
| Status | In development |
| Category | Tool |
| Platforms | Windows, macOS, Linux |
| Rating | |
| Author | RodZilla |
| Made with | Godot |
| Tags | designer, godot-engine, material, pbr, Procedural Generation, substance, Textures |
| Code license | MIT License |
| Asset license | Creative Commons Zero v1.0 Universal |
| Average session | A few minutes |
| Languages | English |
| Inputs | Keyboard, Mouse |
| Links | Source code, Documentation, Discord server |
Download
Click download now to get access to the following files:
material_maker_1_3_windows.zip
40 MB
material_maker_1_3.dmg
67 MB
material_maker_1_3_linux.tar.gz
42 MB
material_maker_1_2p1_windows.zip
36 MB
material_maker_1_2p1_linux.tar.gz
38 MB
material_maker_1_2p1.dmg
64 MB