Material Maker has been updated to 0.94, with many improvements including a new 3D model painting tool and a website where you can share materials. Please don't hesitate to report bugs and submit ideas for new features and new nodes for next releases on Github.

I would like to thank everyone who donated, contributed patches, reported bugs or suggested new features, as well as active Material Maker subreddit and Discord members who created quite a few awesome textures and materials. As a side note, it's really amazing that Material Maker has a so few ratings compared to downloads and donations. If you like Material Maker, please don't hesitate to rate it. And if you don't like Material Maker, please don't hesitate to rate it and give feedback, so it can be improved.

A new website
Materials can now be shared on (and downloaded from) the new www.materialmaker.org website. The process has been made as simple as possible:
a button (with a "link" icon) in the user interface can open the website in your favorite web browser. The button shows the status of the "link" between Material Maker and the web page (broken link means the page is not open yet or not "connected" to Makerial Maker, white link means the page is open and materials can be imported, and "golden" link means you are logged in and can submit materials).
when browsing materials, it is possible to load one of them into Material Maker in a single click
when logged in on the website, a single click on the "send material to website" will generate a preview of your material, and open a form in your web browser to submit it.
A few awesome materials have already been submitted by talented Material Maker users. Some of them are quite complex, so they might take a while to render.
Please don't hesitate to give feedback on the website!

3D model painting
Material Maker can now be used to paint PBR materials for 3D models. Albedo, roughness, metallic, emission and depth channels can be painted at the same time (the normal map is generated from the depth channel).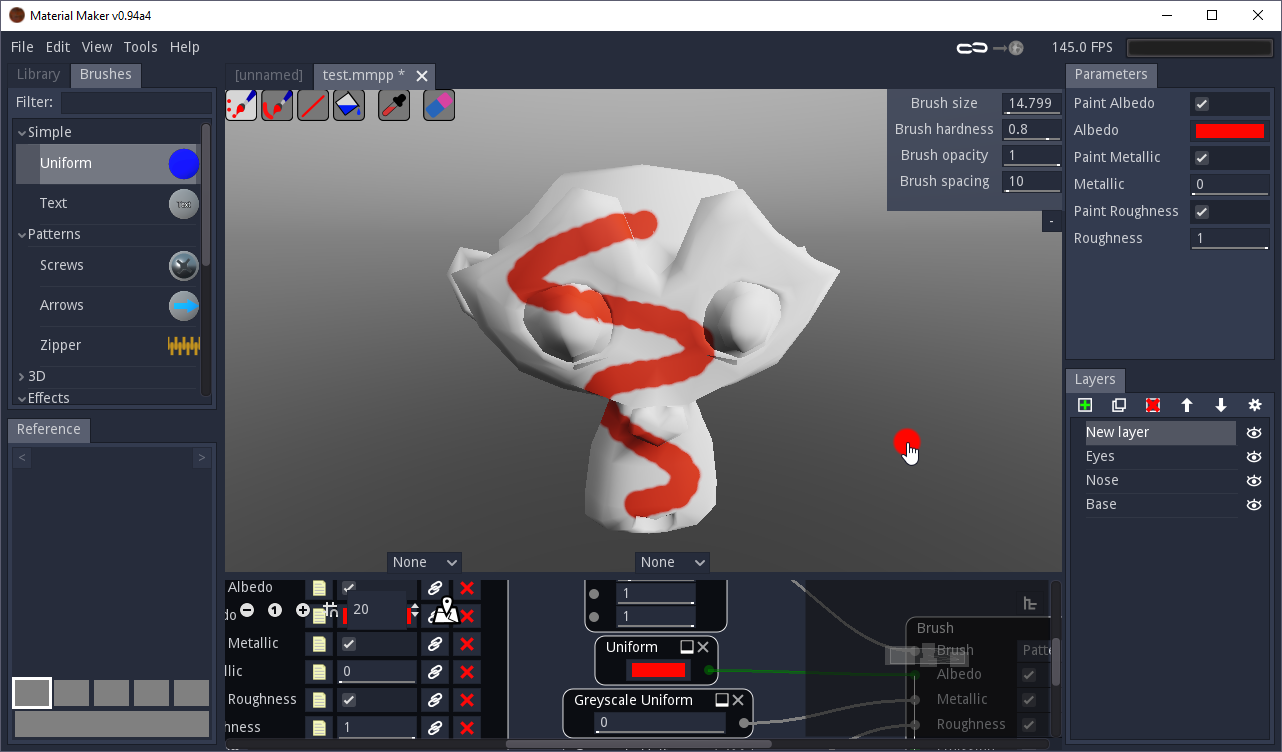 The main focus for this first release of the painting tool was on brushes, that are procedural and described using the same nodes as PBR materials. A few sample brushes are provided in the base brush library, to show some of the possibilities, such as 3D materials, triplanar mapping, following the cursor's movement etc. Since brushes can also be shared on the website, more samples will be available in the future.
The painting tool has basic support for layers: an alpha value can be defined for each channel of each layer, but it's not possible to define layer masks yet.
Note the painting tool only supports models in Wavefront (.obj) file format with a single material.
User interface
Graph views now have a minimap ("borrowed" from the ProtonGraph

procedural content creation tool

)
Connections to and from selected nodes are now highlighted in the graph view
The Add Node menu has been redesigned (by bonbonmiel) and is now shown when connecting node inputs
Nodes can now be minimized, and their previewed output is now saved in the project. When not minimized, the preview is now shown in front of parameters and is hidden when the mouse cursor enters the node
The 2D preview can now be zoomed and panned and has configurable axes representation
In the 3D preview panel, it is now possible to rotate the environment and the preview mesh menu was redesigned (this feature was contributed by bonbonmiel)
Curvature, Ambient Occlusion and Thickness maps can now be baked from custom models in the 3D preview panel (this feature was contributed by

Roujel Williams

)
The Reference panel now has a context menu to load and remove images
Engine
The rendering engine has been optimized and will now adapt the number of parallel renderers dynamically
Nodes
2 new node parameter types are available: curve and polygon
A new Tonality node (a greyscale version of the Colorize node, using the new curve parameter type) and a new Signed Distance Function Polygon node have been added
The new Warp Dilate node deforms one of its input following the contours or slopes iof an input heightmap
The Dilate node now has a choice of 3 distance functions (E

uclidian,

Manhattan and

Chebyshev

) and a sampling problem has been fixed
Files
material_maker_0_94_windows.zip
35 MB
Jan 31, 2021
material_maker_0_94_linux.tar.gz
39 MB
Jan 31, 2021