Important update: it seems installing the itch application on your Mac and using it to install Material Maker completely solves the problem. Please read below for a description of the problem and a manual solution...
If none of the solutions described here work for you, please don't hesitate to contact me on Discord.

Material Maker 0.96 is finally available for MacOS.
Since I don't have a Mac, I wasn't able to test it myself, and would like to thank ROYALKINGSJ who was patient enough to help.
I did not "sign" the app, so the operating system will probably tell you that "Material Maker is from an unidentified developer" (messages can be different depending on the MacOS release).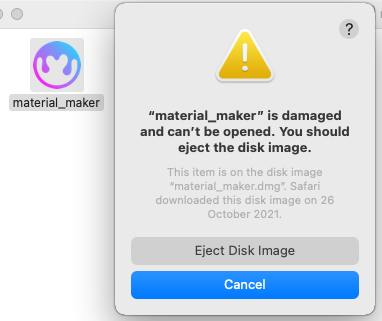 One way to workaround this problem is to:
open a Terminal

enter the command "xattr -d com.apple.quarantine" (don't confirm yet)
drag and drop the material_maker application (with the nice blue/purple Material Maker logo icon) into the terminal (this will add the application path to the command)
press enter to run the command
The command should be executed without error, and you should now be able to run Material Maker without warning from MacOS.
If you have problems with this port, please don't hesitate to add a comment just below.

Files
material_maker_0_99.dmg
58 MB
Apr 10, 2022
Comments
Log in with itch.io to leave a comment.
Hey man, it is not working in M1 Max 16 inch macs, please help
is M1 Mac supported? The work around doesn't seem to work for me

Yep, I was able to run the #739 build (v 0.98-dev) on M1 Mac Air, tho it throws "material_maker quit unexpectedly" a couple of times on startup (just trying to repopen sometimes helps, so I'm not sure what the cause is). There's a crash log I can send if you want it

@thanks for letting me in this thanks page
Thankyou this worked for me on mac